Cementitious Finishes
Marbletite
Marbletite is a high quality, factory-prepared exterior stucco finish containing Portland cement and marble aggregate with non-fading pigments to provide a long lasting finish. Marbletite can be trowelled, floated or spray applied. Custom color matching is available.
• SDS – Polar White • SDS – Tinted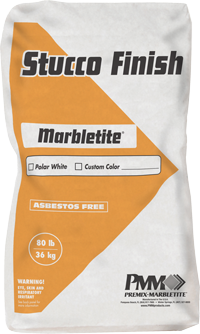 #014000 Polar White
#014001 Pearl White
#014002 Shadow White
#014003 Linen
#014004 Jute
#014005 Harvest
#014011 Sandy Beige
#014016 Mushroom
#014008 Adobe
#014410 Hilltop
#014414 Conch
#014415 Pink Coral
#014418 Beach
#014421 Platinum
#014422 Powder Gray
#014423 Pewter
Marblecrete
Marblecrete is a quality-controlled, pre-mixed, Portland cement and selected aggregate composition using non-fading pigments and other chemical combinations. Marblecrete is normally applied with a trowel for trowel texture. Custom color matching is available.
• SDS – Polar White • SDS – Tinted
#010000 Polar White
#010001 Pearl White
#010002 Shadow White
#010003 Linen
#010004 Jute
#010005 Harvest
#010011 Sandy Beige
#010016 Mushroom
#010008 Adobe
#010010 Hilltop
#010014 Conch
#010015 Pink Coral
#010018 Beach
#010021 Platinum
#010022 Powder Gray
#010023 Pewter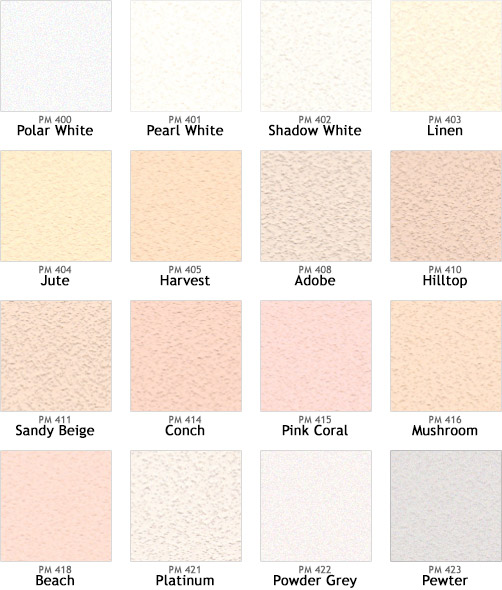 Note: Custom color matching available as Special Order! All colors shown here are intended to show the color choice and ranges available. Do not use this color chart as the final selection as colors are affected by age, texture, lighting conditions, heat and application procedures. Different computer monitors will also display the colors differently.
Request Color Swatch Prior to Order for Confirmation
Exterior Base
P/M Concentrate
P/M Concentrate is a factory blended fiber reinforced grey cement mixture designed as a cement plaster base coat. Available in Sanded, Unsanded and non-Fiber versions.
#016000
P/M Concentrate WS
with sand
Gray
80 lb. – 42/pallet

#016003
P/M Concentrate NF
non-fiber
Gray
80 lb. – 42/pallet
#016002
P/M Concentrate
non-sand
Gray
80 lb. – 42/pallet
• SDS
Walltex
Wall Tex is a one component polymer modified cementitious base coat designed for use on interior or exteriors cementitious substrates. Spray or trowel applied.